Dear all readers, I hope it is not too late for me to wish a Happy New Year for all. December 2007 is the busiest month for me, I can't even post an article. Sorry to keep you waiting for so long. I received many calls, mostly from students that keep asking me on how to share the Celcom Broadband with their colleague. So today I will show you how to share Celcom Broadband in an easy way. For the first part, I will introduce a device that can be used to share your internet connection using Celcom Broadband. The device is D-Link

DIR 451

3G Mobile Router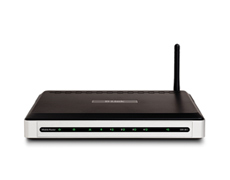 Basically this is how its works:
The D-Link 3G Mobile Router DIR-451 is on-the-go internet sharing devices.The 3G Mobile Router DIR-451 enables user to quickly create a secure wireless 802.11g (108G) network and provide access to the Internet using your Celcom Broadband. By connecting an UMTS(3G), or HSDPA Internet PC card to the 3G Mobile Router, an Internet connection can be accessed and shared virtually anywhere within a wireless broadband network.
The details view on the rear side:
The Internet PC Card slot is where you put your 3G/HSDPA datacard, so you don't have to plugged in the 3G datacard through your laptop or dekstop pc.The router acts as the modem and switch/hub altogether on one device.For sure you need to have a 3G datacard to make it works
The router have 4 10/100 Ethernet ports meaning you can share up to four person by wired (LAN Cable). The router also works on wireless since there is an antenna at the edge of the router.In the admin panel on the router there are many features you can set like Network Key(WEP) where you can put a password on the network that only certain people can enter your network.
Not all 3G/HSDPA datacards are compatible with this product, here I list out the compatible datacard models :
Option GT 3G Quad/Wireless GT Quad
Sierra Wireless Aircard 875/860
Novatel Wireless Merlin U740/U730/U530
Huawei E600 / E620 / E220 (USB)
Here are some of the real screen shots taken using Sierra 875 Wireless Aircard :